Who We Are?
IDeall Solutionz is a part of IDeall group of companies, which was started in 2002 and at present is having a turn over US$ 15Mn funded by private equity. Headquartered in Singapore, it has evolved as a key player and has offices in India,China, Hong Kong, UAE and Vietnam. IDeall group of Co's has 4 major divisions, which specializes in International Trading of Life style Goods, Chemicals, Metals and alloys and Information Technology.
IDeallss Information Technology division is a global business and information technology company, delivering consulting & Human capital management, systems integration, and outsourcing solutions to clients. It also provides Executive Search to clients. Ideallss has provided technical and functional consulting services to various corporations, on the technologies that drive their businesses.

IDeallss provides comprehensive staffing services in the areas of Information Technology, Executive Search in Finance/Accounting, and Engineering. IDeallss delivers upper strata consultants who are powered by deep project experience and keen understanding of the business world & complex real world challenges. IDeallss leverages a global recruitment model to deliver cost-effective consulting services for its clients.
We have a team of over 90 consultants who specialize in application and product development, enterprise resource planning, supply chain management, client relationship management, business process outsourcing, business intelligence, enterprise integration, infrastructure management, application maintenance and call centers. Our team possesses good functional and industry knowledge along with technical expertise and this enables us to make our delivery model really sturdy which provides complete satisfaction to our client base by improving their business performance at a low cost.
We have strategic alliances with various technology companies, and have our software development centers in various geographies. In India we have development centers in Delhi, Chandigarh, Kolkatta and Bangalore. In China our development centre is based in Guangzhou and in Vietnam we do our projects out of Hanoi. Besides these we have our global recruitment centers in Dubai, Germany and New Zealand, who specialize in technical resourcing of the right people to provide our clients for their mission critical applications and technologies.
We pride in retaining talent by providing them with career paths which are challenging, rewarding and enjoyable. We promote their knowledge by educating our technical team with functional and industrial back ground. They are trained and provided business courses in functional expertise to enable continuous improvements. Similarly the functional team is imparted with technical knowledge. We always encourage knowledge transfer between employees and our clients.
Our Culture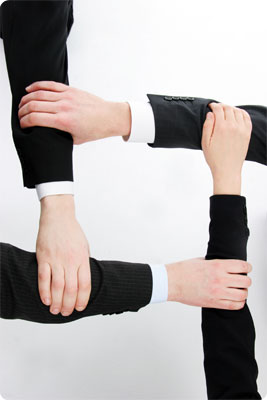 At IDeallss, the most important asset to our organization lies outside the balance sheet. Human capital cannot be measured as it's not a scientific formula nor an arithmetic equation.
However, we have at IDeallss managed to fill our ranks with the best and brightest in the industry, time and again. At present, the first technical specialist that has joined IDeallss over 5 years ago still remains with us.
This is possible because we adopt a family centered work culture. From day one at IDeallss, we know what it means to take care of our people. With a majority of our consultants relocating to Singapore from overseas, we go that extra mile to help them make a home away from home. After all, the founders of IDeallss also came to be, in the same manner.
From organizing counseling sessions on Singapore, its laws and culture to monthly get-togethers with all our consultants and weekly dinners on a rotational basis to find and help out with the day to day life in Singapore to personal issues such as finding schools for their children and residences for living, we go hand in hand with our consultants all the way. Be it a personal problem or a helping hand required, we are there for our staff.
Helping a member of our family with a housing loan if a bank is not co-operative. Taking steps to appoint a highly trustworthy maid and finding child care for a daughter who has been left at home alone, because the parents are working on deadlines overseas, is not alien to IDeallss. We will go the extra mile to take care of our personnel.
We also provide an extremely challenging career path to our consultants. At IDeallss, reviews on performance happen every six months not only in there technical and organizational standing but also in there personal goals and objectives. We welcome the opportunity for our consultants to further their knowledge and skills between project breaks and also support career path changes they wish to embark on. We provide financial aid and counseling on various career paths for potential students before they embark on there chosen careers in our company.
Mission Statement

To identify and solve complex secondary problems of our clients with the use of technology and human capital so that they in turn could focus on their primary core activities.
Corporate Vision
"To make the customer feel safe in the knowledge that Ideallss is handling it's project"
IDeallss endeavors to create a brand name like no other in the industry of IT Project implementation and staffing. We will evolve to be the benchmark to be measured against in the industry. IDeallss will build its success story on 2 formidable and passionate pillars of success.
The first pillar will provide unparalleled support to the customer from the inception of the project through the development stage and then onto the maintenance stage. IDeallss will pride itself in having client account managers dedicated to our clients who will be 24/7 monitoring the customer's activities and needs.
The second pillar will focus on attracting, hiring, retaining and deputing the best talent in the industry. Our employees will witness the ultimate working experience, in which they look forward to coming to work everyday. Where they feel that they are amongst there family when at work. Where growth of self is known to the members in deeds and not words. Where they can unleash their true intellectual capabilities to achieve self satisfaction.